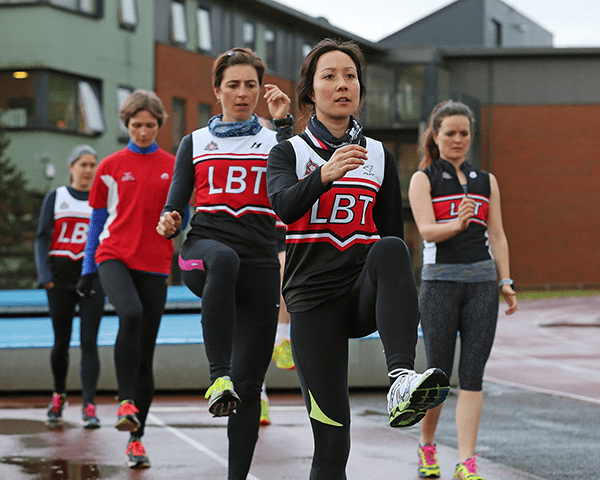 We hold weekly track sessions throughout the year. Our qualified coaches will help get the best from your running as part of your triathlon training whatever your ability.
Our track sessions are structured with mobility exercises, drills and a run workout and focus on run technique, speed and endurance. There'll be some huffing & puffing but hopefully with a smile and good company.
Book you place in advance and be sure to wear run kit that matches the weather and bring a drink.
The club run a parkrun League for members from January to October. Each month the club select a different local venue to visit and members complete the parkrun then go for coffee & a social chat at a local café afterwards.
Scores from each event are collated together and based upon participants handicap style WAVA score – so 20 years olds compete evenly against 70-year-olds! Prizes and medals are awarded at the end of the season for all who compete as well as winners in the various age groups. You can see the latest table here LBT parkrun League Table.
Check the Calendar to see when and where our next parkrun is.
The West Yorkshire Winter League (WYWL) is winter cross country series of 8 races between 16 local running and triathlon clubs. Races take place on Sunday mornings roughly two weeks apart, between November and March.
They are hosted by some of the competing clubs and take place in various locations around West Yorkshire, in fantastic off road car free courses. From open moorland, farmland, to twisty woodland paths. Expect to be out of breath and walking up some of the steeper hills and as its winter, expect water jumps and mud. The courses are hard work but each event is well organised and well marshalled.
On the day you just turn up before the start, warm up and then race! LBT will be flying a flag and place to put your gear. Each race is a mass start and usually have around 400 runners, ages ranging from 18 to 80. They are scored by age and gender category for individuals and clubs, there is also a trophy for most improved runner. After each race the hosting club organises a raffle, a bit food and maybe a cheeky pint. This is optional, if you have to get off after the race you can.
The atmosphere is friendly with plenty of encouragement from club mates and other runners, there is even a Christmas fancy dress race if you fancy dressing up!
WYWL is a great way to stay sharp over the winter when the Triathlon season has closed.
To race you will need:
To sign-up at the start of the season
An LBT race vest (which can be worn on top of a base layer),
England Athletics or British Triathlon membership. England Athletics is available as an extra to your LBT membership; and
Fell racing or trail shoes as the races can get very slippery. We suggest something with big spiky soles like Inov8 Mudclaws or Walshes.
Entry usually opens in October and its a small fee for the whole series. To find out more check the WYWL private Facebook group.
Yorkshire Vets (YVAA) Grand Prix
LBT are affiliated to the Yorkshire Veterans' Athletics Association, which promotes athletics events for over-35s in Track & Field, Road, Multi-terrain, Cross Country and Fell.
They host a series of up to 10 Grand Prix multi-terrain races per year, from around May to September. Each one is organised by one of their associated clubs, from across the Yorkshire our region.
All entrants must be over the age of 33 and be a member of an affiliated club or affiliated as an individual yourself. You can register online, will be issued with a new number when you attend your first race and should keep this number for all subsequent races in the current series. Race entries cost £5 in advance, or £7 on the day.
The Grand Prix races frequently have over 200 runners and are a great social as well as competitive outing. Go the the YVAA website for more details and to see the list of up coming fixtures.